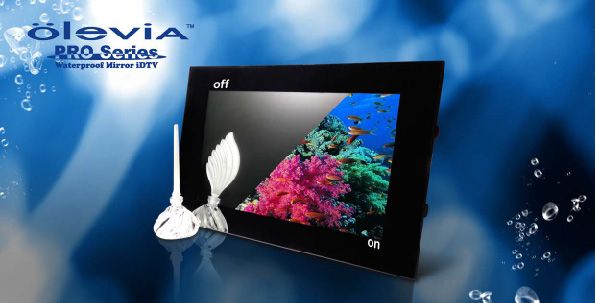 Built-in Digital tuner with High quality image
Olevia PRO Series Waterproof iDTV is built-in with digital tuner. The TV Supports brilliant video image up to 1080i/p.
Sample Wall Mount Design for Installion
You can totally flush mount your TV to the wall or mount it using standard VESA bracket for installation
Unique Mirror Engineering Surface
Combing ultimate mirror reflection with special mirror engineering technology, Olevia PRO Series Waterproof iDTV
will totally hid behind the mirror when power off. The unique elegant design adds the luxurious touch to
your new premises.
Waterproof Mirror Surface、Multi-function
With Modern and Sleek design, Olevia PRO Series Waterproof iDTV has elegant looks that will fit seamlessly
into your interior decoration.
Using Olevia PRO Series Waterproof iDTV in your ballroom – you will not miss your favourite programs while
brushing your teeth, taking shower… You also will impress your guest to install your TV in SPA kitchen,
semi-outdoor garden…
IP65 Waterproof Standard
Olevia PRO Series Waterproof iDTV meets IP65 Standard and will not be damaged by inserted dust and
water jets. Waterproof designs make you safe even you use the TV in bathrooms, SPA and any wet environment.
Each TV also comes with a water resistant floating remote controller.
USB Input
When mirror TV connected with USB, it allows you to enjoy you stored multimedia files. Photos, video files,
music appear in front of you immediacy.